Before we go into my tenth year at mYinsanity in 2022, I would like to look back on the past year together with you. 2021 had its ups and downs, a year that was once more shaped by a worldwide pandemic and big uncertainty on what the next month might look like. A year ago, I still thought, when I was writing last year's review, that we had weathered the storm by now and could all focus on our favourite hobby again – the drawer right next to my PC with overflowing tickets of postponed concerts and festivals disagrees.
Oh well, this all fades into the background since we're here for the Esports, the competition, the thrill, and everything else that is part of Esports. Last year it was our mission to collect trophies, these empty shelves had to be filled once more!
–
National
–
Last year we were allowed to be happy about the (partly) return of Offline events. These included the SEL Finals, Smash Weekly's, and big events too, like the SwitzerLAN/Herofest and almost everywhere our athletes were present.
Our Swiss athletes managed to show their massive potential, be it Strikreaper's magical weekend with a win at the SEL Finals and at the same time a top 9 placement at the HS Masters Tour or the nearly unstoppable force that was Ruben at all of the FIFA events.
A very big highlight in the last year was the SwitzerLAN/Herofest, which was also the first really big event in a while and also one of our most successful. We managed to make it onto the podium 8 times during the whole weekend. It was also just so nice to have all the athletes together for a long time and to compete in an event with over 30 people on our team, to push each other, and to have a good time. With my win in the Hearthstone main tournament, I managed to be more than just a viewer for once and was able to contribute something to our trophy hunt. This is something that doesn't happen every day! What a year without Offline events can amount to! 😉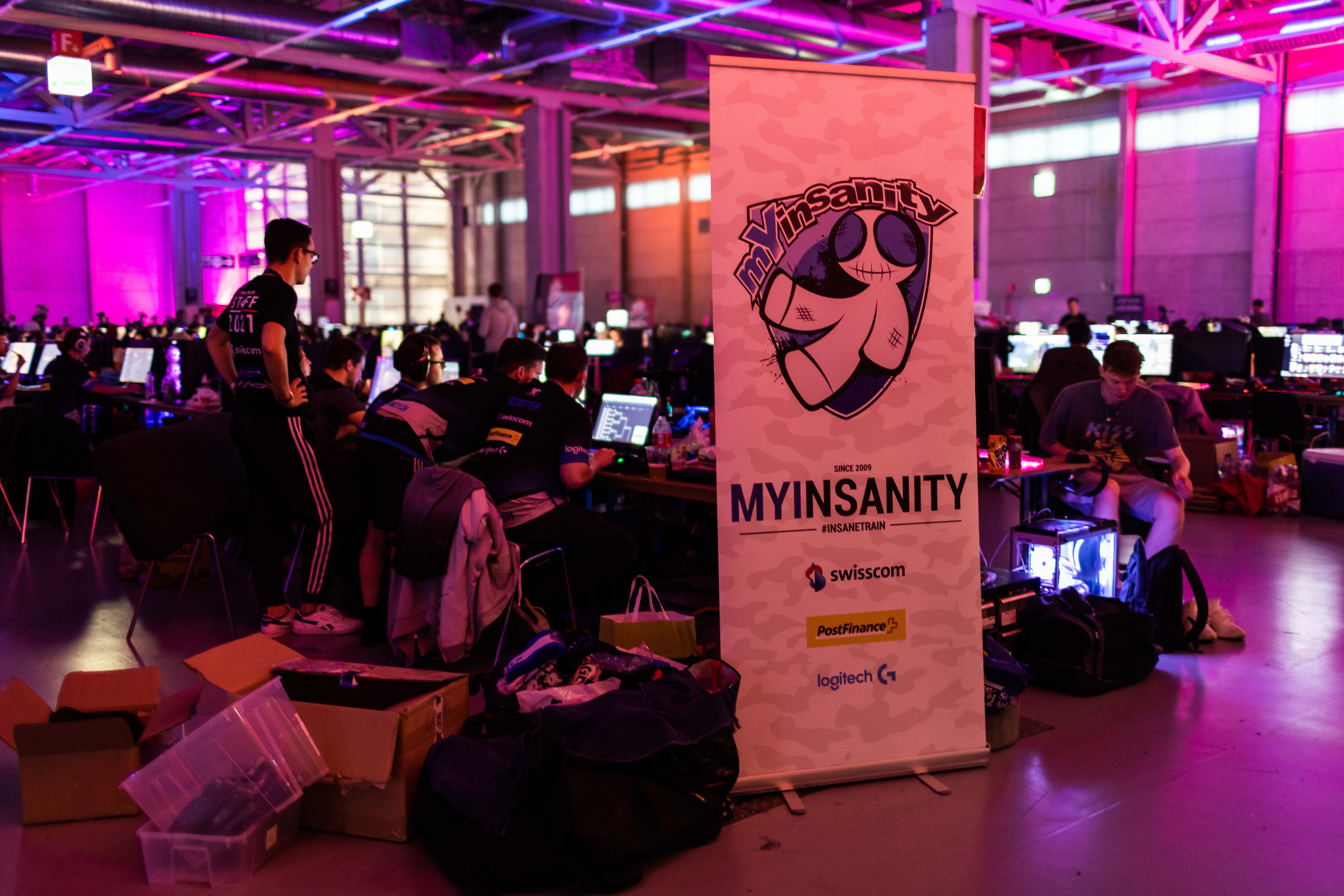 With our new Swiss Brawl Stars team, we expanded into the always-growing scene of mobile games and I'm very excited about what the future might hold there! However, we sadly had to deal with some painful losses nationally in the last year. Our FIFA athlete Ruben and the Rainbow 6 Lineup left us, which means we lost athletes that shaped mYinsanity's history over quite some time. Once again, a very heartfelt thank you to all the amazing time you spent at mYinsanity, it's not easy to replace people like you!
–
International
–
Our athletes were also able to show during the last year that Esports made in Switzerland definitely evolved into a brand.
The year started off with Kirakira's showing at the WePlay Fighting League in Kiew. An amazing accomplishment in the group phase including the win against the EVO Champ Book assured him the way into the Playoffs. However, he did not manage the #Go4Gold, but Kirakira managed to serve the best performance of any Swiss Fighting Game player at such a huge event and no one is going to come close to that for a while.
Our Farmsim boys played a strong season which was marked by many Online events and even some intense Offline events. The Top8 ranking at the world finals was the crowning glory of a very successful year. I'm looking forward to the next year when we can finally watch and cheer for the boys again while they mow and stack. 😉
Also in the LoL Primeleague, we had to go up against the competitors from the DACH portion. After the downgrade from ProDiv in the last year, we managed to assert ourselves in the 1st Div. The next splits will definitely be intense and will definitely make one or two viewers sweat!
With the establishment of mYinsanity Fortnite, we returned to an Esports title that is extremely popular with the younger generation. With players like Maestro, Hookka, or our Swiss newcomer Cosmo, we immediately established ourselves as a big part of the scene.
From the youngsters, we now turn to the senior citizens 😊. With our new international AoE2 and AoE4 team we managed to reach the top of the world in a very short amount of time and managed to snag an RTS title after long abstinence – it's time to win some Dreamhacks again!
–
Miscellaneous
–
Winning in tournaments is one thing but also important for a successful year are the people that manage to give us all these accomplishments each year. I am very proud to have athletes and staff members at mYinsanity, some of which are here as long as I am, who give things their very own personal touch.
Esports is getting more professional, leaves old patterns behind, and continues to evolve. Many of the "clans" from back in the day are gone now, people who poured their heart and soul into teams have now set their sights on new things. Also at mYinsanity there is continuous change each month and each year – however, some remembrance of these "olden times" still stays with us. We are probably one of the only organizations that still hold their weekly staff meetings on Teamspeak instead of Discord or Teams 😉.
With our Charity Stream during Pride Month and mYinachten, we managed to do lots of good things again in the last year. We managed to help people in need and for that, I want to thank all of you again for donating so generously! Btw, should we ever reach the donation goal of the release of our top-secret wrestling footage, a birdie told me that we also have a Europapark vlog hidden somewhere in the depths of the internet that might show you the very unhealthy behavior of one of our staff members very nicely…we'll see 😉.