Swisscom sets up the Swisscom Gaming Cup feat. Fortnite and wants to sign a new Fortnite talent as member of mYinsanity!
Written by: Alessandro Weiler, MYI Entertainment
The well-known sponsor of mYinsanity takes hold of today's most trendy game: Fortnite. Swisscom already proved themselves to be a leading company, when it comes to support esports in Switzerland. The nationally popular Swisscom Hero League, which includes games like League of Legends, CS:GO and Clash Royale, is just one engagement of many.
With the upcoming Swisscom Gaming Cup feat. Fortnite, a tournament series for Fortnite players, they are opening the doors to an even wider audience and give these gamers a brand new platform. But that's not all: Swisscom is looking for a new talent as part of the esports team mYinsanity!
Fortnite talent wanted!
A contract as an official Fortnite player for mYinsanity is waiting for the winner of this tournament! Life as a professional esports athlete comes with many benefits, such as a free Swisscom InOne Home subscription, coachings and the participation in big tournaments – with prize money! The new star of mYinsanity will additionally be featured in different media!
Swisscom Gaming Cup
The tournament series will take place in May 2020 and everyone, who's at least 14, is allowed to participate: PC, console and mobile gamers! Everything is set up online, to take care of your health.
During the month of May, there will be a total of 6 qualifiers, wherein 80 players will qualify for the Grand Final directly. Another 20 players can qualify themselves through a consistency rating and climb their way up to finals.
The selected mode for this tournament will be Solo and the whole thing will start with its first qualifier on May 7th, 2020.
In addition, there is now another for console- / mobile-players to qualify: The Hashtag Video Challenge. Clip your best plays and upload them under the hashtag #SwisscomGamingCup to one of these 4 social media platforms: Instagram, Twitter, Facebook or TikTok.
Grand Final
After the qualifiers, the tournament will reach its climax in the Grand Final on May 28th, 2020. Each player of the 100 qualified players will then meet up in a single ultimate battle royal!
Epic moments are awaiting us! To make sure, that no spectator will miss any of the highlights of this unique event, we will set up a live stream on the mYinsanity Twitch channel.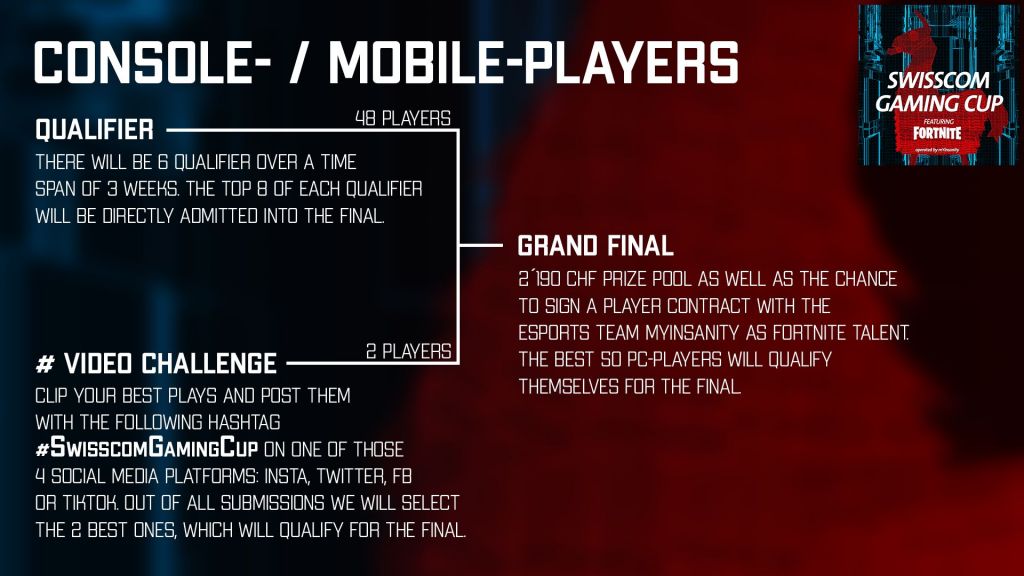 Prize pool
The prize pool contains an amount of CHF 2'190.-! The prize money will then be split up under the Top 16. So, while gaining fame and honor you will also be able to fill up your bank account at the same time.
Registration
What are you waiting for? Everything you need is Discord and your talent. Register now following this link!